Function of HASUMI VACCINE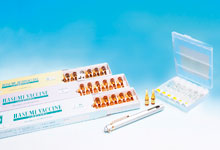 ・Recognize foreign substances and make strong immune system to remove them. The Antigen is prescribe according to the patient's disease.
・It shows about 80 percent of immune strength ameliorating.
Purpose of use and Effects.
・prevention of cancer recurrence after surgery.
・To prevent cancer caused by life style disease and ganes.
・Treatment of advanced cancers.
・improvement of QOL.( gain in weigh, increase appetite, reduces tiredness or fatigue and relieving pain)
・To improve immunizing power to a particular infection.
・Improvement of the five-year survival rate.
・Ability to lessen side effects of cancer treatment.
Effect of another disease.
・Chronic rheumatoid arthritis  ・Atopic dermatitis
・Asthma  ・Allergic rhinitis
・Psoriasis vulgaris   ・Collagen disease
・Prevention of diabetic complication